At Power Trip, Guns N' Roses ditches spectacle as it polishes the messy past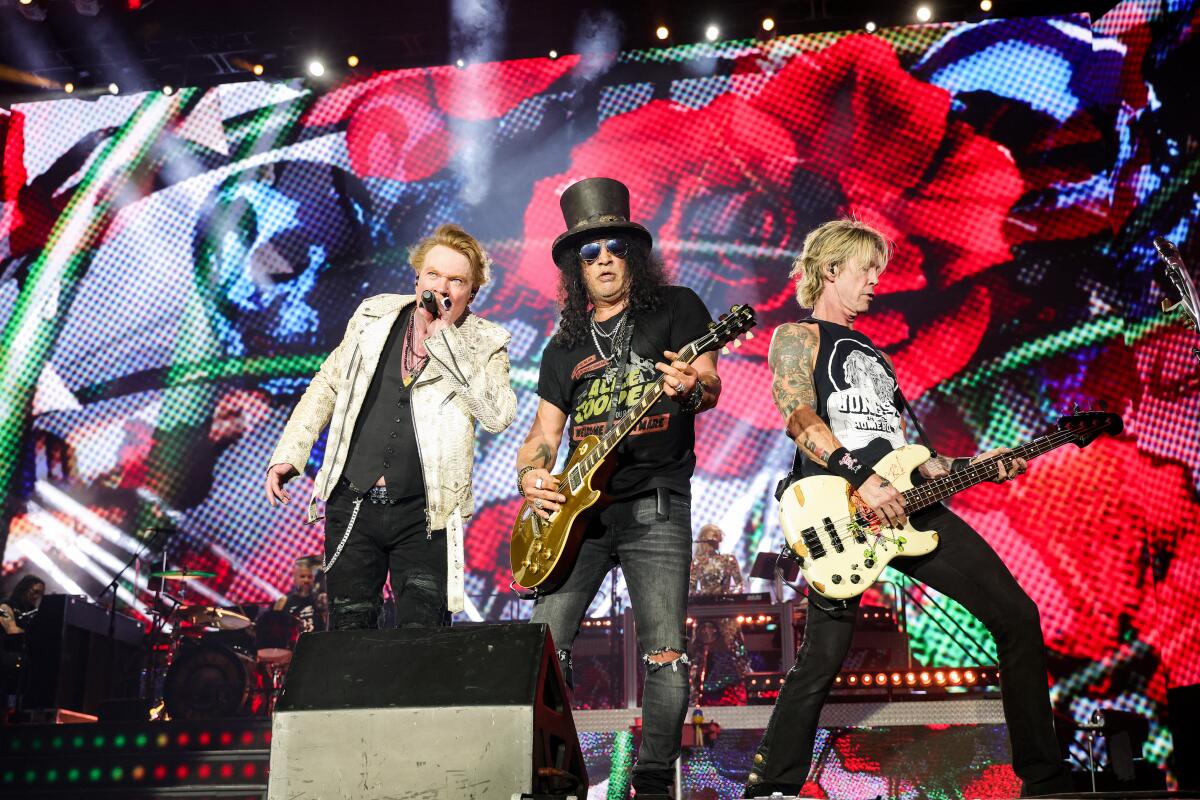 INDIO —
Axl Rose has history at the Empire Polo Club.
In 2016, the Guns N' Roses frontman reunited with the core members of his menacing and flamboyant hard rock band to headline Coachella, the annual desert mega-festival that goes down on this grassy expanse two hours east of Los Angeles.
He returned last year for a surprise drop-in with Carrie Underwood, of all people, at Coachella's country-music counterpart, Stagecoach.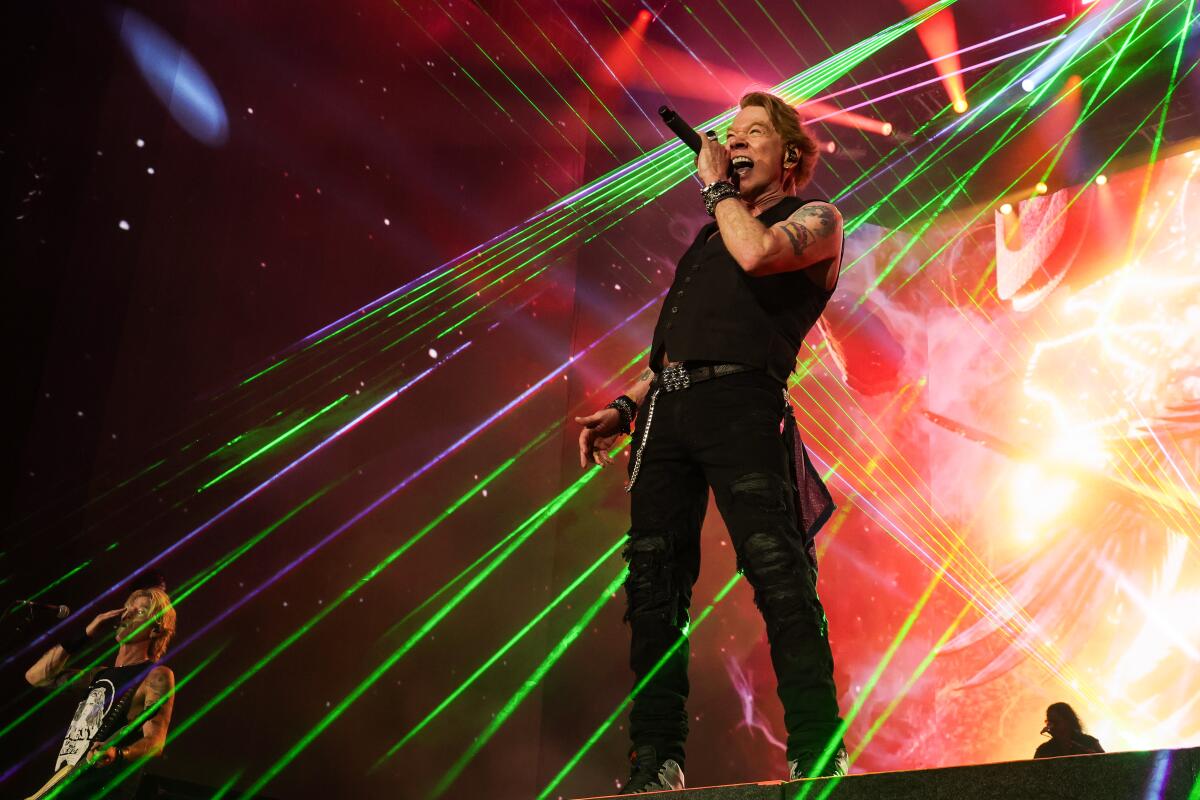 Late Friday, Guns N' Roses was back in Indio for the first night of Power Trip, a three-day heavy-metal(-ish) blowout that also features Metallica, AC/DC, Iron Maiden, Judas Priest and Tool, and to mark the occasion, Rose, 61, relayed the heartwarming fact that the incident described in GNR's song "Double Talkin' Jive" really happened.
"True story," he told the crowd after guitarist Slash took a long, snarling solo. "Found a head and an arm in a trash can behind the studio."
Guns N' Roses' Coachella comeback was notoriously hamstrung by Rose's injury; he broke his foot just days before the fest during a warm-up gig at the Troubadour, forcing the most kinetic of rock singers to perform while seated in a throne he borrowed from Foo Fighters' Dave Grohl (who'd used it himself after breaking his leg).
Seven years and dozens of stadium concerts later, the band — with OG bassist Duff McKagan along with keyboardists Dizzy Reed and Melissa Reese, guitarist Richard Fortus and drummer Frank Ferrer — has become a well-oiled machine. Its three-hour Power Trip set moved efficiently through nearly 30 songs, including such genre-defining hits as "Welcome to the Jungle," "Sweet Child o' Mine," "You Could Be Mine," "Patience," "Paradise City" and the crowning achievement of hard rock's greatest ballad singer, "November Rain."
At the second of two sold-out shows, heavy metal stalwarts Metallica challenged themselves and their audience, with thunderous results.
For that one, Rose, who spent most of the evening crisscrossing Power Trip's enormous stage in a succession of black T-shirts, slipped on a sparkly silver jacket and sat down behind a grand piano on a bench designed to resemble a motorcycle.
But if the polish and athleticism of GNR's performance here was impressive — for what it's worth, Rose looked quite a bit trimmer than he did even 18 months ago at Stagecoach — the show also felt a bit standard-issue: just another gig for a hard-working rock band rather than the one-off spectacle its setting might've led some to hope for. The same largely went for Iron Maiden, which preceded Guns N' Roses on Friday with a very solid version of its current arena production. (Goldenvoice, the promoter that puts on these Indio festivals, refused to disclose the size of the crowds at Power Trip, though the number is well into the tens of thousands.)
Any sense of disappointment wasn't merely tied to the specific expectations raised by Power Trip, which serves as a sequel of sorts to Desert Trip, the 2016 boomer-palooza that brought together the Rolling Stones, Paul McCartney, Bob Dylan and other legends of 1960s rock. The challenge GNR faces as a newly stable legacy act is how to tap into the mayhem and the bad attitudes that once defined the band — and made it such a thrill — without letting them derail the whole thing as often happened in the old days.
Thus Rose's recollection of the grisly events of "Double Talkin' Jive."
The tradeoff for all this professionalization was the not-unwelcome opportunity to remember how peculiar GNR's music is: the knotty structure of a psychotic blues like "Coma," the overwhelming forward drive of "You Could Be Mine," the disarming tenderness of "Sweet Child o' Mine," with its image of a lover's reassuring hair. "Paradise City" and "Welcome to the Jungle" made a case for Slash as the most melodically gifted soloist in hard rock, while "Mr. Brownstone" made you wonder who Rose thought he was fooling when he wrote a lyric about waking up around 7 a.m.
Along with the hits, the band played a couple of unremarkable new tunes as well as some from "Chinese Democracy," the better-than-you-recall 2008 LP that Rose spent more than a decade working on before he invited Slash and McKagan back into the fold. As he sang the title track — Rose's vocals were strong Friday, if less flexible than they used to be — the singer's blue-green eyes glinted with a little of his signature indignation, as though what could still get him riled up was the prospect of being underrated.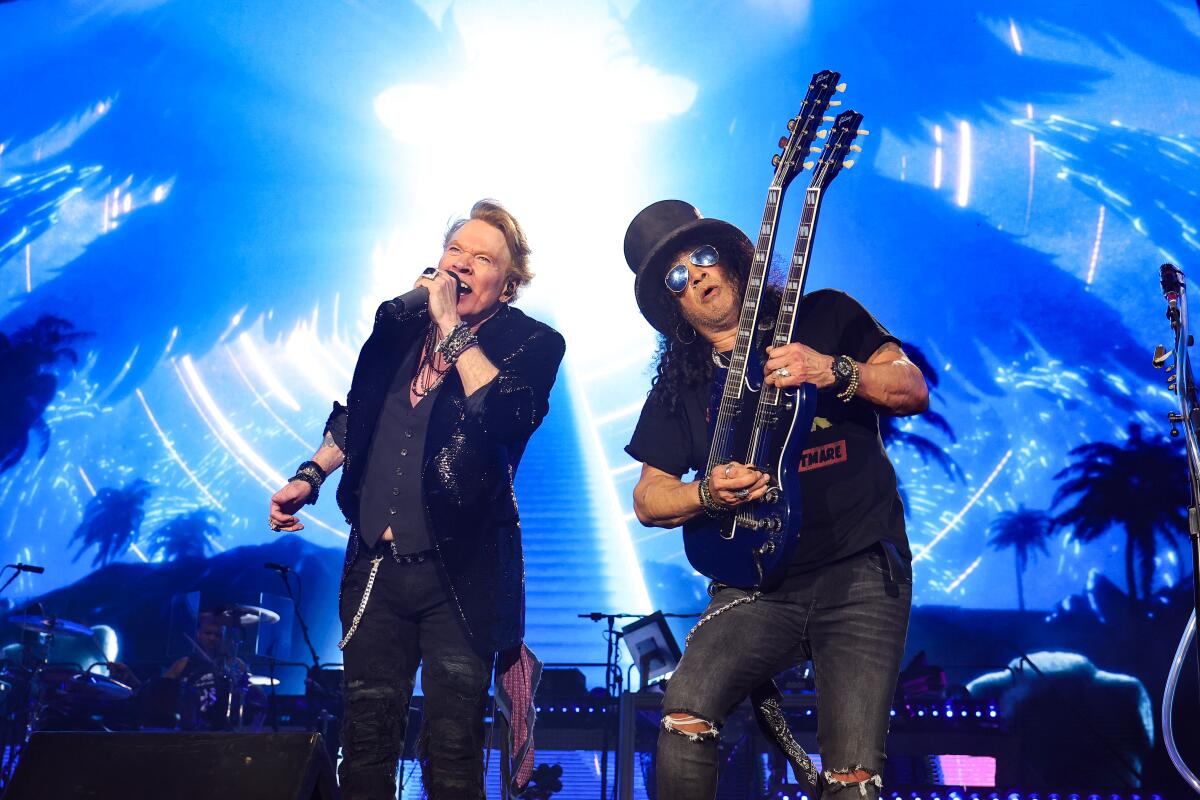 GNR also peppered the show with covers: not just its hit renditions of Wings' "Live and Let Die," which Rose dedicated to McCartney as the song turned 50, and Dylan's "Knockin' on Heaven's Door," which got a funky white-reggae breakdown, but punk oldies by U.K. Subs and the Stooges and a deeply earnest take on Jimmy Webb's "Wichita Lineman."
That late-'60s easy-listening classic might not have seemed to share much with the rest of Guns N' Roses' presentation on Friday. Then again, it's about a guy just doing his job.
Get our L.A. Goes Out newsletter, with the week's best events, to help you explore and experience our city.
You may occasionally receive promotional content from the Los Angeles Times.