(Photo illustration by Diana Ramirez / De Los; photos by Amy Lombard / For The Times, James Carbone / Los Angeles Times en Español)
Just when Angelenos started indulging in pumpkin spice lattes, summer weather is back. Yup, it's that time of year in L.A. again for the dry Santa Ana wind season, when you bundle up in the morning and tear off your clothes in the afternoon. There are plenty of events this weekend to ride out the weather roller coaster, including getting your grub (and deal) on at Dine L.A. Restaurant Week, singing along to Inglewood pop princesa Becky G at the Novo or taking part in the Indigenous Peoples' Day celebrations across the city. Don't forget to pack a sweater for that evening dip back down into the 60s.
LIVE MUSIC
Becky G at the Novo in DTLA: Becky from the block is back in her hometown to promote songs from her recently released "Esquinas" album, a regional Mexican take that pays tribute to her grandparents' Jalisco roots. Collabs with Peso Pluma, DannyLux, Ivan Cornejo, Yahritza y Su Esencia and Chiquis prove her evolution from pop star to reina de Inglewood. Just like her idol Selena, Becky Gomez didn't grow up speaking Spanish and enlisted a cousin to teach her. Now her music is almost exclusively in Spanish, proving just how serious she is about expanding her range and fully embracing her roots.
When: 8 p.m. Saturday
Where: The Novo, 800 West Olympic Blvd., Los Angeles
Admission: Tickets start at $95
Romeo Santos Fórmula, Vol. 3 Tour: When not giving Travis Scott bachata dance lessons onstage at star-studded events, Romeo Santos is touring the world to promote his fifth studio album,"Fórmula, Vol. 3." The King of Bachata is at the height of his career, churning out platinum album after album and performing at sold-out, fan-frenzied arenas. The smooth singer returns to L.A. where he kicked off the North American leg of his tour in June, giving all the mamis and papis reason to dress up and get down. Expect the Dominican American singer to perform hits like "El Pañuelo" and "Me Extraño" and pray for collaborators like Rosalía and Christian Nodal to guest.
When: 8 p.m. Sunday
Where: Kia Forum, 3900 W. Manchester Blvd., Inglewood
Admission: Tickets start at $54.95
For more than 15 years, DJ EU has been consistently showing up and putting all his energy and effort toward elevating the nightlife scene in Atlanta with his Latin roots at the forefront.
Al Sur de La Frontera at the Ford: Prepare to be enlightened by this creative collective weaving together traditional music of the Sierra Zapoteca in Oaxaca with electronic and performance art. Formed by L.A.-based, Mexico City-born experimental vocalist Carmina Escobar, the ensemble features first-gen Oaxacan American youth philharmonic band Maqueos Music Academy, multidisciplinary artist Dorian Wood, Mixtec rapper Una Isu, Chicana soprano Maria Elena Altany, electronic artist Baseck and conductor Yulissa Maqueos. What better way to honor our diaspora than beneath the stars?
When: 8 p.m. Friday
Where: The Ford, 2580 Cahuenga Blvd. E, Los Angeles
Admission: Tickets start at $27
Junior H: Mexican regional artist Antonio Herrera, better known as Junior H, returns to our area after a sold-out show this summer at Crypto.com Arena. The Sad Boyz Tour makes its Anaheim stop this weekend after traveling around the country. Junior H will perform his biggest hits like "Fin De Semana," "Mente Positiva," "Días Nublados," "Abcdario" and "Luna" for his fans in Orange County.
When: 8 p.m. Sunday
Where: Honda Center 2695 E. Katella Ave., Anaheim
Admission: From $79.50
ART
Ghetto Pari Kids Art Opening at Mi Vida: Sara Aceves of family artist collective Kalli Arte is exhibiting new works inspired by the Garbage Pail Kids her dad introduced her to growing up. Aceves carefully constructed masks of bawling blue-haired, pigtailed girls and tattooed Chuck Taylor-wearing boys out of papier-mâché to adorn Mi Vida boutique in Highland Park, where printmaker Jackie Hernandez, fiber artist Izzy Cipactli and photographer Stevie Carrillo will pop up. Follow the tantalizing smell of Carlos Jaquez's Birria Pa La Cruda, who will be serving up tacos so good, you'll want to cry too.
When: 6 to 10 p.m. Friday
Where: Mi Vida, 5159 York Blvd., Highland Park
Tickets: Free
Netflix, Hulu and other streamers have launched special content sections for Hispanic Heritage Month. Are any of them any good?
Después De La Lluvia/After the Rain: Join Salvadoran artists including Beatriz Cortez, Rafael Escamilla, Tatiana Guerrero and Kiara Aileen Machado in dialogue at this South L.A. nonprofit arts organization. The multimedia exhibition portrays decades of Salvadoran immigrant artistry in L.A. after a civil war forced many during the 1980s to flee their homes.
When: 3 to 6 p.m. Saturday
Where: Arts at Blue Roof, 7329 S. Broadway Ave., Los Angeles
Tickets: Free
Hecho Con Amor Sugar Skulls: Get a head start on your Día de los Muertos altar with a class led by pastry chef Norma Salazar, who teaches the process of making edible ancestor offerings. Students will learn the history of sugar skulls while assembling and decorating the traditional treats inside the country's first and only teaching kitchen museum devoted to Mexican cuisine.
When: 10 a.m. to 12 p.m. Saturday
Where: LA Cocina de Gloria Molina at LA Plaza de Cultura y Artes, 555 N. Spring St., Los Angeles
Tickets: $30-$90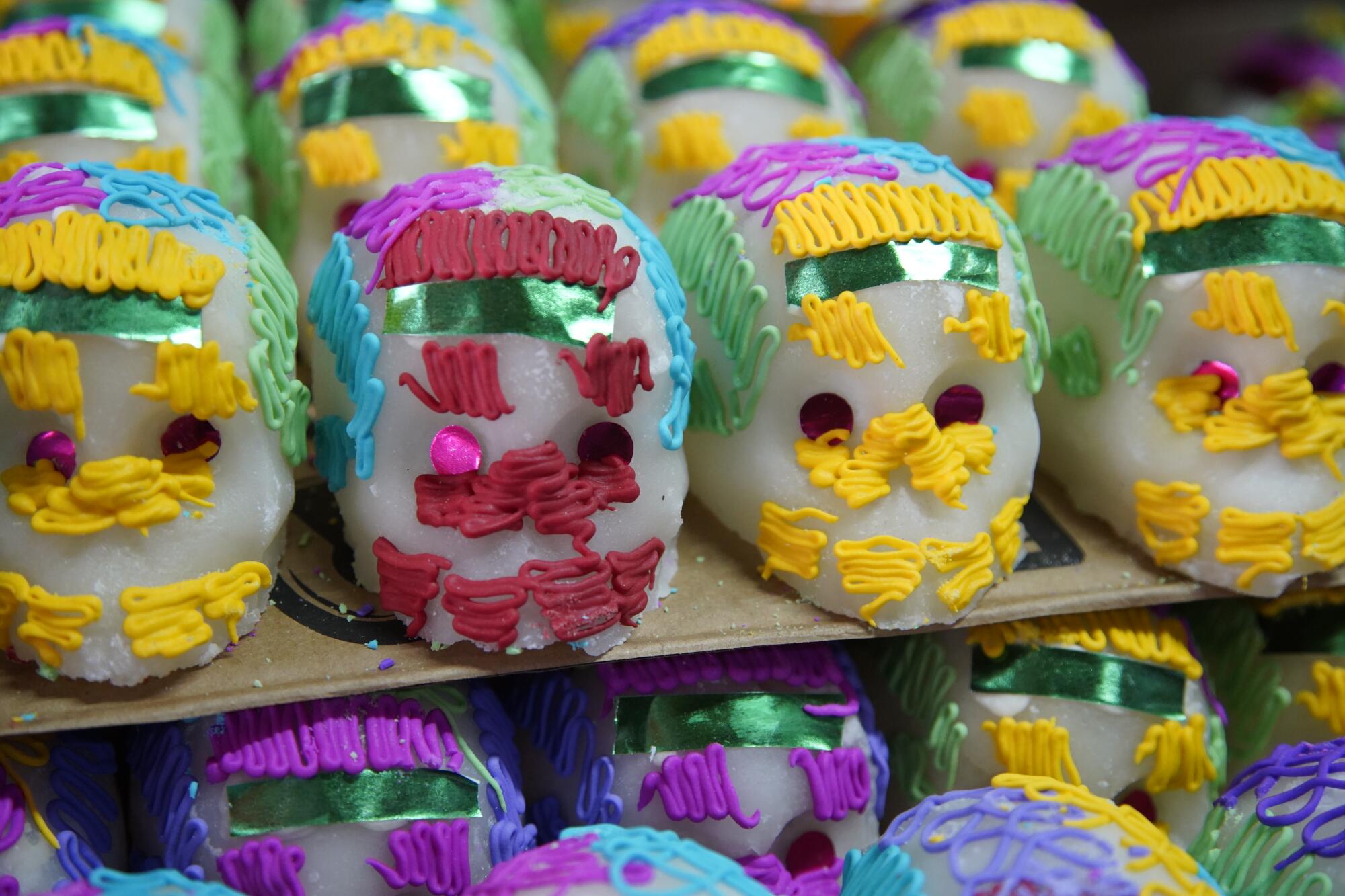 Highland Park Independent Film Festival: For 10 years, this film fest has highlighted the works of independent filmmakers from Northeast L.A. and beyond at a nearly 100-year-old theater in the heart of Highland Park. Executive director and co-founder Marita De La Torre believes in film for the people and offers many films for free and in Spanish. Los Filmmakers 23 features a collection of short films by Latinx filmmakers, including "Illegally Brown," "This One Is for the Neighborhood" and "El Paisa." There's no telling how much longer the historic theater remains after going up for sale last year, so support the fest and nostalgia while you can.
When: Various times Saturday
Where: Highland Theatre, 5604 N. Figueroa St., Highland Park
Tickets: $0-$10
We can't name them all, but here's a mix of spots across L.A. County where you can listen to a poet pour their heart out in person.
LibroMobile Monthly Open Mic: What began in 2016 as a bookstore on wheels at Santa Ana Art Walk has evolved into a small space at the Bristol Swap Mall Plaza opened by Sarah Rafael García, author of "Las Niñas." On a mission to educate the Orange County community about writers of color, LibroMobile offers open-mic night every first Saturday of the month hosted by local poet Kunthon "Katon" Meas.
When: 6 to 8 p.m. Saturday (every first Saturday of the month)
Where: LibroMobile, 1150 S. Bristol St., #A3, Santa Ana
Tickets: Free
Latin American horror haunts visitors at Universal Studios' Halloween Horror Nights in a new monstrous haunted house.
CULTURAL HERITAGE CELEBRATIONS
Indigenous Peoples' Day: Though still not a federal holiday, libraries, banks and post offices in L.A. are closed on Monday in observance of Indigenous Peoples' Day. Ahead of the holiday, several events celebrating the culture and heritage of native communities are taking place this weekend. The Getty hosts its second annual event with Mesoamerican food, Mexica linocut stamping and sage workshops. In Tujunga, ST Forward hosts an event centered on respect for land, reciprocity and dialogue with music, food and storytelling. At Malinalli Superfoods in East L.A., the vibe is "land back" with Indigenous performers and vendors, a native ulama ball game demonstration, plant-based food and drum circles.
When: noon to 4 p.m. Saturday; 11 to 4 p.m. Sunday; noon to 10 p.m. Sunday
Where: The Getty Center, 1200 Getty Center Drive, Los Angeles; MRCA, 12400 Big Tujunga Canyon Road, Tujunga; Malinalli Superfoods, 4528 Whittier Blvd., East L.A.
Admission: All events are free
FOOD
Dine L.A. Restaurant Week: For 15 years, Dine L.A. has rounded up restaurants of various price points to provide some serious deals. This year, Boyle Heights' Brooklyn Ave. Pizza Co. is offering a four-course lunch special for $25 and dinner for $35, which includes chicken wings, pizza or a sneak peak of its pasta expansion, fries and Italian chocolate budino for dessert. If it's date night, head over to Maestro in Pasadena, where you can get an appetizer, main dish and dessert for $55. Over at the Grove, Baja-inspired Alma Cocina de Mexico is offering a lunch deal for $45 and dinner for $65. These discounted prix fixe menus only come around twice a year, so get 'em while they're hot.
When: Oct. 6-20
Where: Check out the list of over 200 restaurants participating
SHOPPING
526 Flea: What started in the parking lot of 30-year-old Andres Vega's grandmother's dress boutique in Whittier has expanded to more than 200 vendors selling everything from tooth gems to Y2K memorabilia. On a mission to promote POC and LGBTQ+ small business owners, Vega has created a safe space for vendors looking to expand their clientele and shoppers on the hunt for one-of-a-kind flea market finds. Oh, and did we mention it's free? Watch out, Rose Bowl. There's a new kid in town.
When: 10 a.m. to 3 p.m. Sunday
Where: Exposition Park, 700 Exposition Park Drive, Los Angeles
Admission: Free
L.A. is too big for us to know about all the events happening this weekend. If we missed something you think we should know about, let us know.
L.A. Times en español staff writer Tommy Calle contributed to this report.
Kamren Curiel is a fourth-generation Xicana born in East L.A. and raised in Monterey Park and South San Gabriel. She's written for the Los Angeles Times, L.A. Taco, Latina magazine, LAist, KCET, Alta and the Huffington Post, and was the senior editor at Remezcla and Sí TV.