Shock and stepped-up security in Southern California as Israel-Gaza battle rages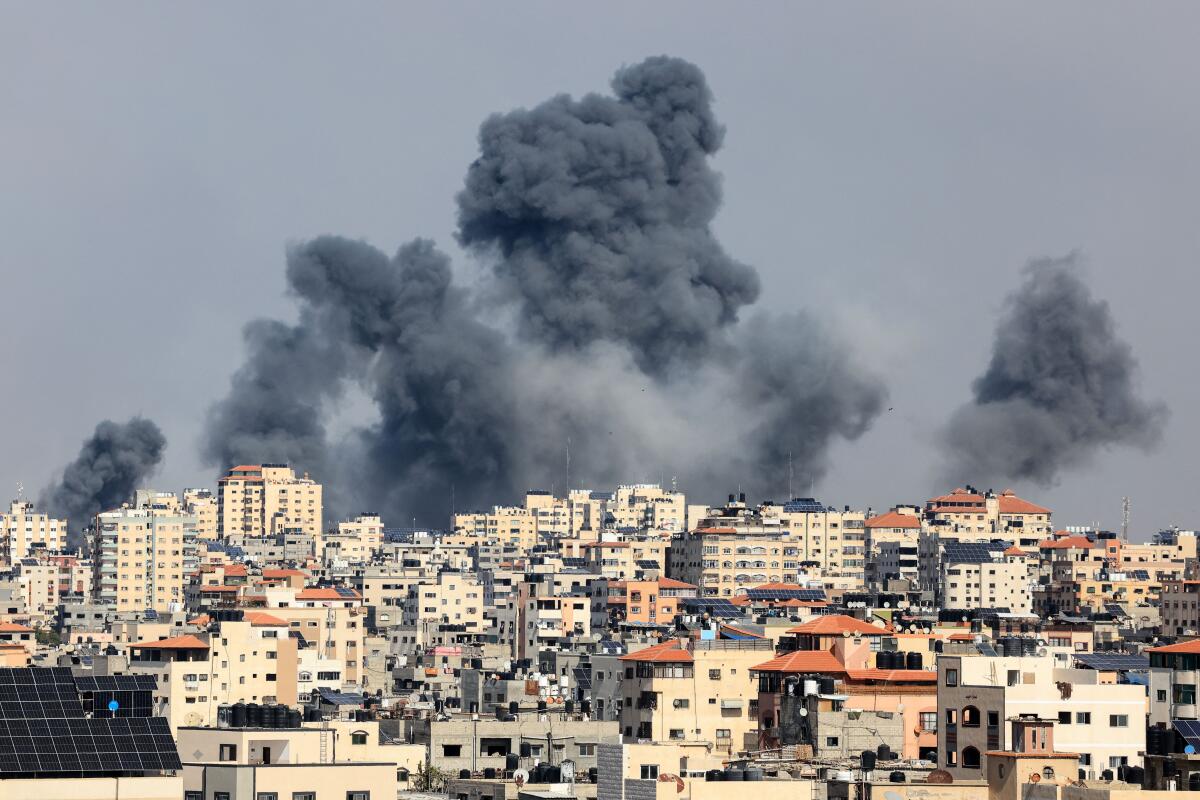 Local leaders in Southern California swiftly denounced Hamas militants and increased security around Jewish institutions Saturday hours after a deadly attack killed at least 700 Israelis in the Middle East, with more than 400 in Gaza killed in counterattacks.
"I join voices across the nation condemning this horrific attack on Israel," Los Angeles Mayor Karen Bass said Saturday in a statement. "The Los Angeles region has the second largest Jewish population outside of Israel, and many families are anxiously awaiting developments as they unfold. My thoughts are with those families this morning. Angelenos stand with those under siege mourning loss. May their memories be a blessing."
Los Angeles Police Chief Michel Moore said Saturday that the department added extra patrols to areas of the city that serve Jewish and Muslim communities.
In Beverly Hills, where police also stepped up security, Mayor Julian Gold called on President Biden and Congress to act swiftly in support of Israel.
"Our hearts are with the people of Israel as we stand together and support Israel defending itself and condemn this heinous act," Gold said in a statement.
The sudden war in Israel and Gaza upends political calculations as violence hits a scale not seen in decades.
News reports from Jerusalem indicated that some 2,000 Israelis had been injured as Palestinian Hamas militants fired thousands of rockets and sent fighters into Israel from the Gaza Strip in a coordinated and sophisticated assault Saturday that shocked Israel, sent residents fleeing and left bodies on the streets. Militants also captured an unknown number of Israeli hostages. It was one of the deadliest attacks in Israel in years.
On Sunday, Israel fired a relentless barrage of bombs on the Gaza Strip and formally declared war on Hamas. Israeli Prime Minister Benjamin Netanyahu on Saturday said Gaza's rulers had "launched a murderous surprise attack against the State of Israel and its citizens."
In a statement, Netanyahu said he ordered security to clear out the communities infiltrated by terrorists and ordered an "extensive mobilization of reserves and that we return fire of a magnitude that the enemy has not known."
The death toll in Gaza on Sunday was 413, health officials said, with 2,000 others in the enclave wounded.
Hundreds reported killed in Hamas attack in Israel. Hundreds are dead in the Gaza Strip as the Israeli military retaliates, Palestinian authorities say.
Brian Levin, former director of the Center for the Study of Hate and Extremism at Cal State San Bernardino, said Saturday that he was "shocked and saddened" to wake up to images of fire and violence overseas.
"As a citizen of the world who has been working with diverse groups here and elsewhere to promote peace, it's beyond heartbreaking," Levin said. "But additionally, as a Jewish person whose father was a POW to the Nazis and has relatives who have faced the horror of the Holocaust, to see photos of bloodied women and elderly grandmothers held hostage is jarring. So I guess I have two incredible disappointments."
Levin, who has long studied hate crime trends in the U.S., expressed fear that a prolonged conflict could lead to racial or religiously motivated violence in California and elsewhere. He pointed to data that showed antisemitic hate crimes in New York and Los Angeles boomed in May 2021, as violence broke out along the Gaza Strip.
On Saturday, inside Al Baraka restaurant in Anaheim's Little Arabia neighborhood — a stretch of Brookhurst Avenue home to an array of Palestinian-, Egyptian- and Yemeni-owned businesses — owner Aref Mohammad had a large television tuned to Al Jazeera reports for hours.
Mohammad's sister and brother live in Gaza, and he called them nearly every hour to make sure they were safe.
At a nearby table, a Palestinian man named Nazeeh called the Hamas strikes a "tragedy" as he sat with his family at a long table with half-finished plates of hummus and tabbouleh. But he cautioned that the violence, while worthy of condemnation, is far from isolated: The failure of the Israeli and U.S. governments to find a peaceable solution to the long-running dispute played a major factor in the latest bloodshed, he said.
"It's like kids with a beach ball that they keep pushing under the water; eventually it's going to pop back up," said Nazeeh, who asked to withhold his last name for fear that his businesses could be harmed by speaking out.
"People in the Gaza Strip live in a big prison," he said. "It's a human tragedy on both sides. Killing children is a tragedy. Innocent people are getting crushed."
Down the street, barber Ahmad Abusadeh said he hadn't watched a single news report since his friend called to alert him to the attacks. He's fed up with a conflict he said is fostered by the Palestinian and Israeli governments — one that civilians pay for in blood.
"This will never, ever stop," Abusadeh, 42, said as he threw his hands up in frustration. "There's no safety over there.
"I don't care about Hamas. I don't care about the army," he added. "I care about the normal people."
Although Saturday's deadly attack surprised Israeli military leaders, known for their network of informants and intelligence-gathering operations in the Palestinian territories, the attack itself wasn't surprising given the escalating violence and despair felt in the region, said Yousef Munayyer.
Munayyer, head of the Palestine/Israel program at research nonprofit Arab Center Washington DC, said Palestinians had been warning of such an outcome for years, and regional leaders warned officials as recently as a few weeks ago at the United Nations that "if we don't pay attention to this issue, there's going to be an explosion in the region."
In August, Tor Wennesland, United Nations special coordinator for the Middle East peace process, warned officials that Palestinians and Israelis are killed and injured in near-daily violence, noting that Palestinian and Israeli fatalities in 2023 had already surpassed 2022's annual figures.
"This violence is fueled and exacerbated by a growing sense of despair about the future," Wennesland said.
Munayyer said these moments don't make headlines to grab the attention of U.S. policymakers, who make empty statements not followed up with meaningful action to "take a leadership role in demanding a genuine resolution to this issue by applying international law and by insisting the human rights are respected."
Munayyer said Palestianians live under military occupation that affects essentially every aspect of daily living — regardless of whether there's a bombardment.
In Gaza, drones hover in the sky, and Israeli naval ships are "picking off fishermen on the waters off Gaza," and farmers along the fence that separates the Gaza Strip from Israel are often attacked by Israeli forces, he said.
The West Bank, which is slightly smaller than Delaware, has a ground presence of Israeli troops and some 500 checkpoints, which are randomly closed, meaning families trying to visit each other might have to take three trips to find an open route amid the checkpoints.
"It's hard for us here in the United States to think about what life is like under military occupation," Munayyer said. "But it means that the military effectively dictates almost every decision in your life, where you can think about going to school, whether or not you're going to be able to reach your cousin's birthday party, whether or not you're going to make it to the hospital, whether or not you're going to make it back from the hospital. ... And that's been the case for generations."
Jeffrey Abrams, the regional director of the Anti-Defamation League Los Angeles, on Saturday called the attack a replay of history: Fifty years ago, on Oct. 6, 1973, a coalition led by Egypt and Syria launched a surprise attack on Israel, which marked the beginning of the Yom Kippur War.
Hamas militants launched their latest assault on the Jewish holiday of Shemini Atzeret, which follows the weeklong Sukkot festival and which Abrams described as a day "to mourn our lost ones."
"We've already heard reports of people being called out of synagogue to report for duty to defend not just their country, but the people," Abrams said. "Elderly have been shot at bus stops. Young people have been attacked at dance parties. Young mothers and their children had been dragged out of homes and paraded through the streets. That is what is happening at this very moment. And those hostages have been taken to Gaza as pawns."
The Jewish holiday of Simchat Torah, observed Sunday, marks a celebration of the completion of the annual cycle of the reading of the Torah and the beginning of the new cycle.
"It's traditionally a festive day when the Torah scroll is unrolled, from one side to the other, often paraded through the streets with joy," Abrams said Saturday. "Around the world tomorrow, we'll still celebrate this holiday, but the joy — given what we're under right now — still exists, but it's vastly diminished."
The ADL is communicating with law enforcement and its partner organizations to ensure the safety of Los Angeles' sizable Jewish community, Abrams said.
Elected leaders in California joined in the condemnation of Hamas militants.
"All responsible for this attack must be held to account," L.A. County Supervisor Lindsey Horvath posted on social media. "I pray for strength and safety in Israel."
Assemblymember Jesse Gabriel (D-Encino), state Sen. Scott Wiener (D-San Francisco) and state Sen. Josh Becker (D-Menlo Park), members of the California Legislative Jewish Caucus at the state Capitol, said they were "heartbroken and horrified by the devastating terrorist attacks against Israel."
"We have visited the Israeli communities that have been ravaged by indiscriminate killings and kidnappings and many of us have friends and family in Israel who are huddled in bomb shelters with their children amid ongoing rocket attacks," the lawmakers said in a joint statement. "Nothing can justify this brutal and grotesque violence. Israel has the right and responsibility to defend its civilians, and we are grateful to the many American leaders — including President Biden, Vice President Harris, Senators Alex Padilla and Laphonza Butler and members of Congress from California — who have spoken out clearly and unequivocally in support of Israel at this difficult moment."
Jewish members of the House of Representatives also spoke out against the Hamas attacks.
"We are united in standing with and supporting our ally Israel as it responds to terrorist attacks from Gaza," said a joint statement from lawmakers including California Reps. Adam B. Schiff (D-Burbank), Sara Jacobs (D-San Diego), Mike Levin (D-San Juan Capistrano) and Brad Sherman (D-Northridge). "Hamas has declared war on Israel and her people. Our alliance with Israel is unbreakable; our commitment to Israel's security is ironclad."
The members of the House committed to doing "all we can to ensure Israel has the ability and capacity to restore and maintain its security and the safety of all its citizens."
Gov. Gavin Newsom called the attacks "nothing short of horrific."
"Women, children — innocent people — being targeted with brutal acts of terrorism by Hamas," Newsom posted to X, formerly known as Twitter. "All on the 50th anniversary of the Yom Kippur War. There is simply no justification for this. I stand with Israel and its people in denouncing this horrific act of terrorism. We must demand an end to this violence — now."
Sign up for Essential California for news, features and recommendations from the L.A. Times and beyond in your inbox six days a week.
You may occasionally receive promotional content from the Los Angeles Times.