After deadly missile strike on a Ukrainian cafe, grief and a search for answers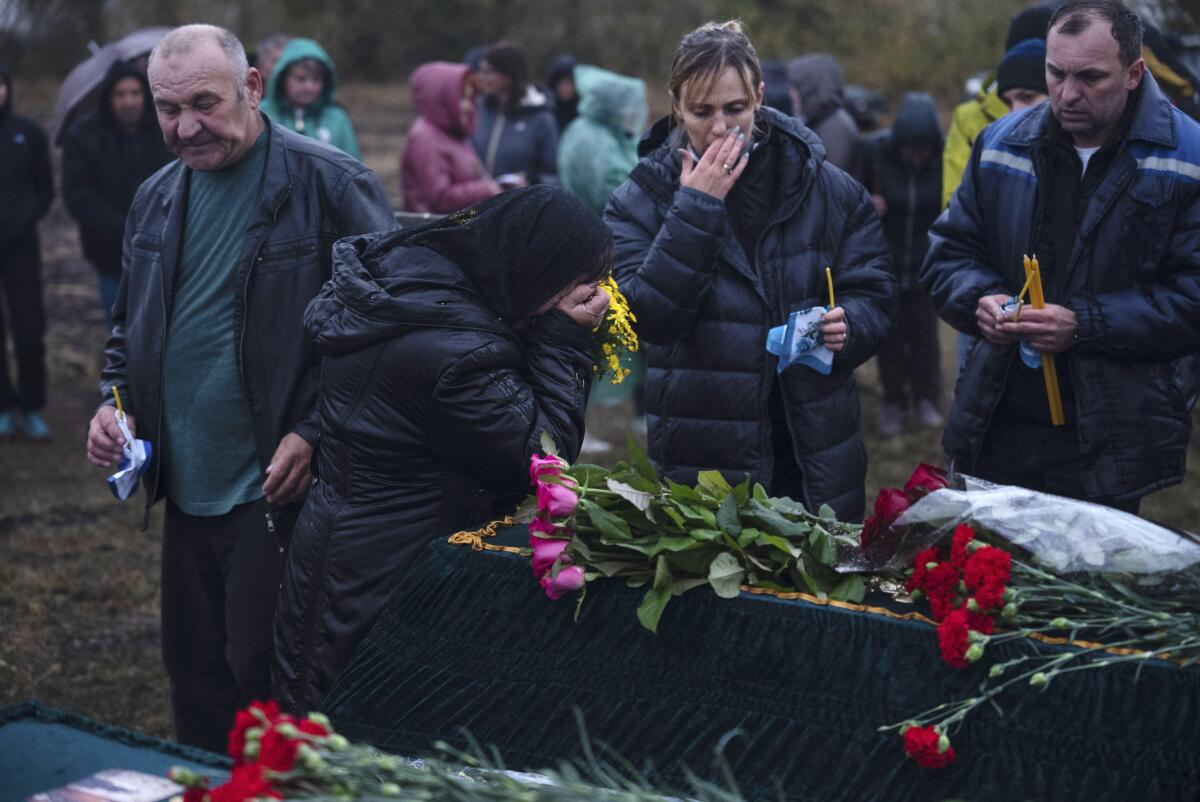 HROZA, Ukraine —
U.N. and local investigators searched for answers Saturday at the site of a Russian missile strike on this small Ukrainian village that days earlier turned its sole cafe to rubble and killed more than 50 people gathered for a dead soldier's wake, according to top officials in Kyiv. Residents that same day began laying their lost friends to rest.
Representatives from the United Nations Monitoring Mission in Ukraine spent much of the day speaking with residents and survivors in Hroza, in the northeastern Kharkiv region, according to a statement shared with the Associated Press.
"My initial conversations with local residents and survivors indicate that virtually all those killed were civilians and that the target itself, a busy village cafe and store, was also clearly civilian," Danielle Bell, who led the team that visited Hroza on Saturday, was cited as saying in the U.N. statement.
"What happened here is yet another tragic reminder of the deadly impact Russia's invasion has had on Ukraine's civilians," Bell added.
The village cafe was obliterated and whole families perished after the missile strike Thursday cut short a wake for Andriy Kozyr, a soldier from Hroza who died last winter fighting Russia's invading forces in eastern Ukraine.
Even far from Ukraine's front lines, military funerals set off waves of mourning. 'You can't see an end to it,' one chaplain says as the war drags on.
According to Ukrainian news reports, he was initially laid to rest elsewhere in Ukraine, as his native village remained under Russian occupation. Kozyr's family decided to rebury him in Hroza more than 15 months following his death, after DNA tests confirmed his identity, and the cafe reopened especially to let residents honor his memory.
His son Dmytro Kozyr, also a soldier, was among those who died in the attack alongside his wife, Nina, who was just days short of her 21st birthday. As of Saturday, Ukrainian law enforcement and the regional prosecutor's office put the number of victims at 52.
At least 51 people were killed in a Russian rocket strike on a village cafe and store in eastern Ukraine, one of the deadliest attacks in recent months.
Only six people in the cafe survived, and the town is trying to fathom why and how the wake was targeted. Dmytro Chubenko, spokesman for the regional prosecutor, said Friday that investigators are looking into whether someone from the area transmitted the cafe's coordinates to the Russians — a betrayal to everyone grieving in Hroza.
Among the mourners are Kateryna Tarannyk and her brother Dmytro Androsovych, whose parents were killed at Kozyr's wake and buried Saturday at a small cemetery on the village's outskirts. Relatives of Tetiana Androsovych, 60, and Mykola Androsovych, 63, gathered alongside Hroza residents under a grim gray sky, as rain kept falling into the fresh open graves nearby that had been dug for other victims.
Tarannyk and her brother stood embracing each other, gazing at their parents' closed caskets, throughout the Orthodox service.
"It feels like you're in a bad, incomprehensible dream, waiting to wake up. It's just unbearable," Tarannyk said.
Tarannyk had come to the funeral from Slovakia, where she had fled with her child in the early days of the war. She set off immediately upon hearing the news of the missile strike. Just a week ago, her parents had visited her in Slovakia.
"They were so happy," she recalled. Together, they had made plans for Tarannyk's child to visit the grandparents in the spring.
Before the couple was laid to rest, Tarannyk approached each casket in turn and silently said her goodbyes, gently stroking the dark green velvet fabric covering the coffins.
The missile strike was "treacherous, cruel and unjust," she said with anger in her voice.
Oleksii Androsovych, Mykola's brother, rushed to the village cafe immediately after the missile hit. He found his brother's body next to that of his wife, whose head was missing.
A Russian missile strike has killed a 10-year-old boy and his grandmother and injured about 30 other people in the Ukrainian city of Kharkiv.
For Oleksii, it was likely the first of many funerals for his friends and neighbors that will be held in Hroza over the coming days and perhaps months, as not all victims' bodies have been identified yet.
Mykola and his wife were buried several rows on from Kozyr, the soldier whose wake they had attended. The tiny village cemetery has grown substantially in the last two days, as fresh graves keep appearing.
Ukrainian police have identified 48 out of the 52 civilians killed by the missile blast, according to the chief police investigator for Kharkiv province. In a Facebook post, Serhii Bolvinov said that investigation teams were "gathering up dead bodies, literally piece by piece."
Russian attacks plunged Ukrainian cities into darkness last winter. War-weary citizens brace for more blackouts amid a rush to protect Ukraine's electrical grid.
Hroza, which had a population of about 500 before the war, was seized by Russia early in the war before being recaptured by Ukraine in September 2022 along with neighboring areas. It's about 20 miles west of Kupiansk, a key focus of the Russian military effort. Ukrainian President Volodymyr Zelensky visited the area Tuesday to meet with troops and inspect equipment supplied by the West.
Ukrainian officials said the village was hit by a precision Iskander-style missile, which is said to have an accuracy of 5 to 7 yards.
Elsewhere, a pro-Kremlin politician in Ukraine's Russian-occupied south died of his injuries Saturday after his car was blown up, local Moscow-installed authorities reported. A Telegram post by Vladimir Saldo, a Kremlin-appointed regional leader, identified the politician as Vladimir Malov, the secretary of a local branch of Russian President Vladimir Putin's political party, United Russia.
Russian President Vladimir Putin's KGB years in East Germany offer a window into his crackdown on protests, war on Ukraine and yearning for empire.
It was not immediately clear who was behind the deadly attack on Malov. But guerrilla forces loyal to Kyiv have for months operated behind enemy lines, killing pro-Moscow officials, blowing up bridges and helping the Ukrainian military by identifying key targets.
Civilians were killed and wounded by Russian shelling and missile strikes across Ukraine's south and east Saturday, local Ukrainian officials reported.
A 52-year-old man died after a Russian shell fell in his yard in the southern Kherson region, local Gov. Roman Mrochko said on Telegram.
Four people were injured by broken glass as Russian missiles struck the Black Sea port of Chornomorsk overnight, officials said.
This Ukrainian artist was known for whimsical sculptures. Now, amid Russia's war on Ukraine, he creates art from war debris, military weapons and fury.
Sign up for Essential California for the L.A. Times biggest news, features and recommendations in your inbox six days a week.
You may occasionally receive promotional content from the Los Angeles Times.